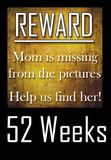 I'm participating in what I think is a really smart weekly challenge hosted by Carin at
Forever in Blue Jeans
. It seems like mamas spend an awful lot of time behind the camera. The idea of this challenge is for mamas to get on the other side of the camera in at least one photo a week.
When my boys grow up they'll inherit hundreds of thousands of photos taken from their childhood, but how many of those will show their mama? At least for this year I can answer 52!
_______________________________________
I'm usually pretty good about getting my one pic a week by Wednesday. But this week I was a slacker. Thursday morning and no photo to post.

So, the boys and I headed to their school. They go to a co-op nursery school held at a local park. All the moms have to work one day a week...except for me. I have two kids attending so I work every Tuesday and Thursday.

Before anyone else showed up for school this morning (and thought I was crazy), I grabbed a self-portrait with the boys.

I love those little muffins!
____________________________________

If I contacted you about a 'green' award, congrats and thank you! The code can me found in this
post
.