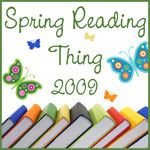 I have always loved to read. It is something I'm proud to have inherited from my mom.
Before having the boys I would spend a lot of time reading...every night before bed, in the car, on trips, in doctor's waiting rooms, curled up in a chair on the weekend. I read about 40 books a year.
Since the boys, I've not had nearly as much time to read. Occasionally I still read at night before bed. Before it was a necessity...a way to quiet the day's thoughts running through my head in order to get some sleep. Now, I've been known to fall asleep fully dressed...barely letting my head touch the pillow before passing out. When I am this exhausted, I don't need to read unfortunately.
____________________________________


Katrina at
Callapidder Days
is hosting a reading challenge. Participants set reading-related goals to accomplish between March 20th and June 20 and report back how they are doing.
Here are my goals for the next 3 months:
Read one book about or taking place in China -

Empress Orchid
(fiction) or
Lost on Planet China
(travel) or finish
Oracle Bones
(history)
Read one book about adoption -
Twenty Things Adopted Kids Wish Their Adoptive Parents Knew
Read one parenting book -
Protecting The Gift
or
Raising Cain
Read one food science/nutrition/conservation book -
I've started
The Omnivore's Delimma
but it's a bit technical. There is biology and botany and once they started talking about corn sex, I couldn't stay focused. I wanted to read it. And I wanted to like it. I'm either going to try to finish it or I'll read
Food Matters
.
I'd also like to read
I Was A Really Good Mom Before I Had Kids
or get through at least one novel on my shelf, maybe
World Without End
or
The Reader
or
The Friday Night Knitting Club
.
Of the above mentioned books I only own a few. Hint to Scott: Mother's Day!
____________________________________


I also am setting a goal to read more to my boys. Like everything, we go through phases...some times we read a little, some times a lot, and other times not at all. I plan on reading to my boys every day again. I'm not sure when...before bed is actually really difficult for us. Maybe in the morning? I want to read both picture books and a chapter book...maybe finish
Charlotte's Web
?
I just realized that the goals I've listed above are fairly wishy-washy. But what's a busy mama to do? I don't want to set myself up for obvious failure.
If you've read any of the books I've mentioned I'd love to know what you thought about them. Or I'll gladly take recommendations if you have any for the above categories.