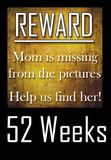 I'm participating in what I think is a really smart weekly challenge hosted by Carin at
Forever in Blue Jeans
. It seems like mamas spend an awful lot of time behind the camera. The idea of this challenge is for mamas to get on the other side of the camera in at least one photo a week.
When my boys grow up they'll inherit hundreds of thousands of photos taken from their childhood, but how many of those will show their mama? At least for this year I can answer 52!
_______________________________________
Today we told the boys that we had a secret mission after their nap. Scott planned on leaving work a bit early so the family could go see a Monsters vs. Aliens in 3D. This pic was taken right after they realized we were at the movie theater.
I'd like to tell you about the movie but I didn't actually see much of it. I divided my attention between putting the enormous glasses back on Logan and consoling Jack through the scary parts.
I later realized that Logan kept taking the glasses off because he couldn't see through them. The lenses were grease-smeared from his little buttery fingers trying to keep them from falling off. Additionally, I left the movie early with Jack. He thinks he'll like this movie when he's older...maybe 5 but for sure when he's 6. But as a 4-year old, he did definitely not like it!
Here is what I can tell you if you are planning on seeing it in 3D. You might want to:
1.) swing by the bank first to get a small loan as they charge $3 more per ticket and
2.) bring duct tape so you can fasten the ridiculously large 3D glasses to your child's head. Apparently the geniuses who thought of using 3D technology for a kids' movie were not smart enough to think to have kid-size glasses made. Duh!