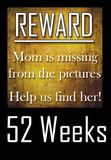 I'm participating in what I think is a really smart weekly challenge hosted by Carin at
Forever in Blue Jeans
. It seems like mamas spend an awful lot of time behind the camera. The idea of this challenge is for mamas to get on the other side of the camera in at least one photo a week.
When my boys grow up they'll inherit hundreds of thousands of photos taken from their childhood, but how many of those will show their mama? At least for this year I can answer 52!
_______________________________________
School, glorious school! It seems wrong to say, but everything is better when school is in session. We are like a well-oiled machine...good eating, good schedules, good time apart, good time together. The kids are happy and I'm happy (which means that Scott is happy).
Here are the boys and I in front of their school on two of my workdays.
One of the best parts about schooldays actually takes places afterschool. Several moms and their kids stay on the playground for more than an hour. We are able to watch our kids easily in a very familiar environment while having some much needed adult conversation (even if 99% of it is about our kids).