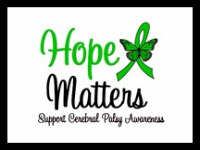 March is
Cerebral Palsy Awareness Month. I'm a bit embarrassed to
admit that a month ago I knew next to nothing about CP. But then I "met" Keri through her blog,
Life of Logan
. Keri is mom to Levi and his older brother Logan,
a boy who has cerebral palsy, but cerebral palsy does not have him
.
Did you know:
Cerebral palsy is one of the most common developmental disabilities in the US, affecting at least 800,000 children, adolescents and adults in America.
The average prevalence of cerebral palsy is about 1 in 278 children. This first report of the prevalence and characteristics of CP, the most common cause of motor disability in childhood, are from Georgia, Alabama and Wisconsin. Can you even begin to imagine the numbers if there was a national surveillance?
There is currently no cure for cerebral palsy and in most cases, it is not preventable. In over 50 years, treatments for CP have not progressed much at all.
To show support of CP awareness and those with CP, like Keri's son Logan, my Logan, Jack and I donned green shirts today.
The boys were happy to wear green but not to sit for a photo.
If you'd like to be inspired, visit Logan and Keri.