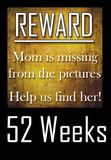 I'm participating in what I think is a really smart weekly challenge hosted by Carin at
Forever in Blue Jeans
. It seems like mamas spend an awful lot of time behind the camera. The idea of this challenge is for mamas to get on the other side of the camera in at least one photo a week.
When my boys grow up they'll inherit hundreds of thousands of photos taken from their childhood, but how many of those will show their mama? At least for this year I can answer 52!
_______________________________________
This week I desperately wanted to get a photo of Logan and I giving each other a fish kiss. It's a cute thing we do (well, at least I think so) where we suck in our cheeks, pucker up and move our lips like a fish while kissing. So I asked Scott to get a pic of Logan and I. But Logan had other ideas. He pushed me away screaming "no fishy kiss!"
So I asked Jack if he would fish kiss me. He obliged and Scott managed to get a couple shots. After putting the boys to bed (hurray!) I tried to get the card out of the camera...only to realize...that there was no card in the camera. Opps!
The purpose of this carnival is to take new photos, more photos but for today I'm going to post an old photo. My goal is to get a photo taken today or tomorrow. But in the meantime, I'll post this from Halloween:
Jack is a race car driver, Scott is Indiana Jones, Logan is a pirate and I am, what else but, Super Mama!