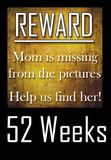 I'm participating in what I think is a really smart weekly challenge hosted by Carin at
Forever in Blue Jeans
. It seems like mamas spend an awful lot of time behind the camera. The idea of this challenge is for mamas to get on the other side of the camera in at least one photo a week.
When my boys grow up they'll inherit hundreds of thousands of photos taken from their childhood, but how many of those will show their mama? At least for this year I can answer 52!
_______________________________________
Last week I wanted a fish kiss picture with Logan which didn't happened. I'm still working on one. But in the meantime, we took this photo at school.
It was my workday and both Jack and Logan were having a rough day. The only way I could get them to agree to sit down and eat lunch was by telling them we could all sit together...just the three of us. Finally...no more tears, no more whining, no more crying. Just mama and her two boys on a lunch date...