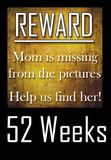 I'm participating in what I think is a really smart weekly challenge hosted by Carin at
Forever in Blue Jeans
. It seems like mamas spend an awful lot of time behind the camera. The idea of this challenge is for mamas to get on the other side of the camera in at least one photo a week.
When my boys grow up they'll inherit hundreds of thousands of photos taken from their childhood, but how many of those will show their mama? At least for this year I can answer 52!
Another week...another unflattering photo!
This pic was taken at Disneyland. I'm making that strange face because I was slightly annoyed that Scott was not getting the whole castle in the photo.
I guess I should be thankful we got this photo out of the way before it poured rain on us...talk about unflattering!