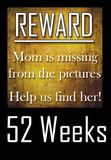 I'm participating in what I think is a really smart weekly challenge hosted by Carin at
Forever in Blue Jeans
. It seems like mamas spend an awful lot of time behind the camera. The idea of this challenge is for mamas to get on the other side of the camera in at least one photo a week.
When my boys grow up they'll inherit hundreds of thousands of photos taken from their childhood, but how many of those will show their mama? At least for this year I can answer 52!
_______________________________________
Recently, every night, I've read the boys
Dr. Seuss's Sleep Book
at bedtime. The book is such a yawn! No, I mean, really...the book is filled with yawning creatures. And since everyone knows that yawns are contagious, you can imagine what happens to me and the boys while reading. Yyyaaawwnnn... I'm getting sleepy just thinking about it...
Here is the first page...

The news
Just came in
From the County of Keck
That a very small bug
By the name of Van Vleck
Is yawning so wide
You can look down his neck.
This may not seem
Very important, I know.
But it is. So I'm bothering
Telling you so.
-Dr. Seuss, 1962

Now, whenever I yawn, Jack asks me if I caught it from Van Vleck.

What's that? Are you yawning?

I guess I should have warned you not to read this post unless it was your bedtime! Sorry!