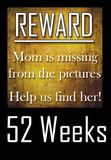 I'm participating in what I think is a really smart weekly challenge hosted by Carin at
Forever in Blue Jeans
. It seems like mamas spend an awful lot of time behind the camera. The idea of this challenge is for mamas to get on the other side of the camera in at least one photo a week.
When my boys grow up they'll inherit hundreds of thousands of photos taken from their childhood, but how many of those will show their mama? At least for this year I can answer 52!
_______________________________________
The boys and I have gotten into a bad habit. After naptime, Logan is a crank. So we usually turn on the TV and cuddle. It takes him a long time to decrankify.
Before we got into this rut we used to go on walks...to the local grocery store, the park, the ice cream shop. Sometimes we'd just walk to walk...to look for neighborhood cats, smell the flowers, poke some bugs. How I miss that routine...
So yesterday afternoon, when Jack unexpectedly asked if we could go get ice cream, I said "yes!". So what if it was going to be way too close to dinnertime? Ice cream was just the thing to bust us out of our rut.
I headed in to wake Logan from his nap. I whispered "ice cream, ice cream, ice cream" into his ear. Let's just say he woke up in a better mood that usual...
We are lucky enough to live walking distance from 5 or more ice cream/gelato shops (and a mall, tons of restaurants, two grocery stores, a drug store and if I was really desperate, the boys' pedetrician). But I digress... We headed to my favorite ice cream shop...Cold Stone.
Perusing the selection...
"I want them all!"
Not a good pic but at least I'm in it.
This is what Jack looks like when I've caught him eating my ice cream
This is what Jack looks like when I tell him to stop eating my ice cream
With our bellies full of ice cream we headed back home. We smelled the flowers and looked at the bees and jumped over the cracks on the sidewalk.
This my typical view while on a walk...the back of Jack and Logan as they run ahead. (Don't you just love that purple jacaranda tree?)
Our rut was successfully broken!