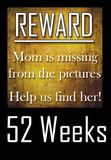 I'm participating in what I think is a really smart weekly challenge hosted by Carin at
Forever in Blue Jeans
. It seems like mamas spend an awful lot of time behind the camera. The idea of this challenge is for mamas to get on the other side of the camera in at least one photo a week.
When my boys grow up they'll inherit hundreds of thousands of photos taken from their childhood, but how many of those will show their mama? At least for this year I can answer 52!
Last week I realized that though I had been writing this blog for 2 1/2 months (and posted 55 times) I had never posted a photo of me.
This week I can't believe that I am actually posting this photo. I don't think I've ever seen one less flattering of myself.
Jack and I are pretending to be robots. We are wearing Wall-e masks and step-stools. Don't be hating 'cause you can't carry off a step-stool like me!
I have to leave you with a cuter photo. Here Jack and Logan are my little robots!