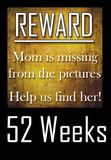 I'm participating in what I think is a really smart weekly challenge hosted by Carin at
Forever in Blue Jeans
. It seems like mamas spend an awful lot of time behind the camera. The idea of this challenge is for mamas to get on the other side of the camera in at least one photo a week.
When my boys grow up they'll inherit hundreds of thousands of photos taken from their childhood, but how many of those will show their mama? At least for this year I can answer 52!
_______________________________________
The boys and I visited our local science museum over spring break with some school friends. We were not the only ones with that bright idea so the museum was packed. After a brief while we gave up and headed outside to a rose garden where the kids could run, run, run until their hearts content. Just a quick break for a photo op...
Logan was a little grumpy about having to stop playing for a picture...hence, the grouch face. And Jack looks sunburned but he just gets very, very rosy cheeks when he is exerting himself.
Today's Earth Week post,
Scooters, styrofoam and no-waste lunches...oh, my!
is posted in addition to my
'get green starter kit' giveaway
.