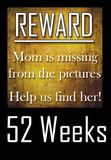 I'm participating in what I think is a really smart weekly challenge hosted by Carin at
Forever in Blue Jeans
. It seems like mamas spend an awful lot of time behind the camera. The idea of this challenge is for mamas to get on the other side of the camera in at least one photo a week.
When my boys grow up they'll inherit hundreds of thousands of photos taken from their childhood, but how many of those will show their mama? At least for this year I can answer 52!
_______________________________________
This past weekend we attended a kids' birthday party at an indoor playground. Only this was unlike any indoor playground I had ever seen before...
There were several inflatables but not the little bouncy houses...one with a basketball hoop and a small slide, one with a huge rope swing and one was the monster of all slides...25 feet or more tall of slip sliding bouncy fun.
Logan (on the left) and Jack trying it out first.
This pic of Logan gives you a sense of how tall this slide was.
I couldn't let the boys have all the fun. Jack and I blur by. (About 90% of our pics were blurry (even on the action setting) because the slide was soooooo fast!)
I tried to get the whole family to jump together but Logan would refused to do it with us. (That's him watching us in the bottom left corner.) Scott, Jack and I...notice how I'm dragging them down!
At this point I've given up the pretense of doing this for my kids. Now I'm doing it by myself, for myself.
The four of us went up the ladder and down the slide over and over and over again. I seriously could have done this all day...except that I'm old!
And since Papa is rarely in the pic, I thought I'd include one of him and the boys.