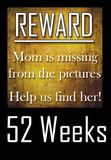 I'm participating in what I think is a really smart weekly challenge hosted by Carin at
Forever in Blue Jeans
. It seems like mamas spend an awful lot of time behind the camera. The idea of this challenge is for mamas to get on the other side of the camera in at least one photo a week.
When my boys grow up they'll inherit hundreds of thousands of photos taken from their childhood, but how many of those will show their mama? At least for this year I can answer 52!
_______________________________________
So the
weather wasn't great
but we had a fun day. First we started at the beach...
Jack showing off his seashell find.
Getting some seriously squishy love from Mama.
Then we headed to a local seafood hole-in-the-wall.
I, skillfully, wipe the ever-present drool from Logan's chin for our photo op.


Checking out the scenery.
Be sure to see my earlier
post
below too...