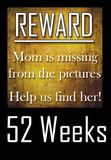 I'm participating in what I think is a really smart weekly challenge hosted by Carin at
Forever in Blue Jeans
. It seems like mamas spend an awful lot of time behind the camera. The idea of this challenge is for mamas to get on the other side of the camera in at least one photo a week.
When my boys grow up they'll inherit hundreds of thousands of photos taken from their childhood, but how many of those will show their mama? At least for this year I can answer 52!
_______________________________________
This past week I did a lousy job of getting in the picture. And now it's Wednesday night and the boys are asleep. So what's a gal to do?
Post pics of her kids with the rest of the family, of course.
Luckily this past weekend we went camping with my parents so I got plenty of pics. This was the second year we've done this trip and everyone just loves it. So if you'll indulge me, this will be my camping post as well as my 52-weeks/mama-in-the-pic post.
We started the weekend at a small zoo located not far from the campgrounds. The boys checked out the parrot and the parrot checked out the boys.
Ummm, guys? Look behind you!
Yep...behind you too, Jack!
Then we were off to the the campsite. Here is my dad with Jack and camera-shy Logan.
Did I mention that we weren't exactly roughing it? This was our tent. Yep, it had beds...and down comforters!
The boys spent their days painting treasure boxes from my mom,
goofing off with their Papa,
playing soccer with Papa,
and Granddad.
Of course, we spent our nights making s'mores.
Last and certainly least is this pic of me and the boys.
(Please keep in mind that this is after two nights of camping.)