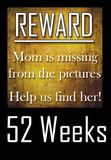 I'm participating in what I think is a really smart weekly challenge hosted by Carin at
Forever in Blue Jeans
. It seems like mamas spend an awful lot of time behind the camera. The idea of this challenge is for mamas to get on the other side of the camera in at least one photo a week.
When my boys grow up they'll inherit hundreds of thousands of photos taken from their childhood, but how many of those will show their mama? At least for this year I can answer 52!
_______________________________________
We spent the long last weekend of summer at my parents' house in Monterey. The whole family loves visiting there not only because of getting to spend time with my parents but also because there is so much family-friendly fun stuff to do.
On this trip, we went to the Monterey Bay Aquarium. We've been there lots of times throughout the years so the boys have their favorite exhibits but we also love to see the new rotating exhibits like the great white shark and the seahorses.
Of course I took pictures of all the interesting creatures to see.
Here is the seahorse family. That's me, Mama Seahorse, two juvenile seahorses and Papa Seashorse. How do I know that is the papa? Because he is currently giving birth . (Male seahorses get pregnant and birth the babies.) Of course, Jack just wanted to know why the baby was coming out of the statue's butt.
Okay, so here is a real seahorse. Yes, that leafy seaweedy looking thing is a seahorse. A Sea Dragon to be exact. (His head is on the lower left side.)
The otters were very active...so much so that I couldn't get a picture of them. The penquins, on the other hand, were perfectly happy to pose for me.
Logan and the great white shark:
My measly photos don't do the Monterey Bay Aquarium justice. If you are in the area you should definately go.