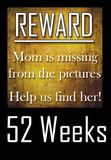 I'm participating in what I think is a really smart weekly challenge hosted by Carin at
Forever in Blue Jeans
. It seems like mamas spend an awful lot of time behind the camera. The idea of this challenge is for mamas to get on the other side of the camera in at least one photo a week.
When my boys grow up they'll inherit hundreds of thousands of photos taken from their childhood, but how many of those will show their mama? At least for this year I can answer 52!
_______________________________________

It is extremely rare for the boys and I to stay home all day. For whatever reason, they are usually much better behaved out in public than in the house. So every morning, I come up with something for us to do out of the house.
But today, I woke with a migraine and really needed a lazy morning. And luckily, the boys played really well together and separately all morning long at home...though they probably watched a bit to much TV. Okay, well, a lot too much TV.
This picture was taken at about 1PM. The boys are both still in their pjs and I've got wet hair and no makeup because I'd just gotten out of the shower. Definately a much needed lazy day...